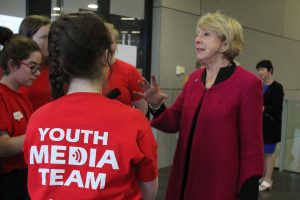 The Youth Media Team talked with Sabina Higgins, wife of the President of Ireland. Sabina shared her important message for the young people of Ireland.
Sabina said, "Now is the most crucial and important time in the world. Because it's the first time ever– because of what mankind has done in the last 200 years–that the planet is in danger of not being in existence".

Sabina pointed out that people are doing a lot of work on these problems. "In the United Nations, and then in Paris, 200 countries signed up to the Sustainable Development Goals. These are 17 little goals there. They're no poverty, no hunger, good health and well being, quality education, gender equality, clean water and sanitation, clean and affordable energy, decent work, and it finishes up with action for climate change in land and in sea".
The Paris Accords were a big deal. According to Sabina, "It was the first time in the world that countries across the whole world had one agenda."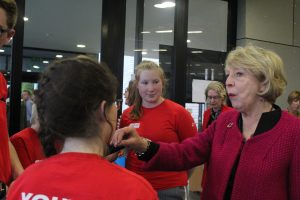 Sabina talked about how as young people we have access to all this information and that its a very exciting time for all this positive change to be happening. It's a promising time. But it is also one filled with challenges. "You are the people that will bring those changes", Sabina said. "So whatever area you're interested in, know that you're working, not just for yourself here, but for the world, the planet and that we're all the same in the planet. And that we can do it." Sabina reminded us that we "are the people who have the most exciting task. And whatever area you're in, it's all connected, it's reaching to others."
Sabina enjoyed the Feilte Exhibition. "There is nothing like the knowledge that you can have now," Sabina said. "You know, when I was a girl, they didn't even teach us about evolution!"
Anna and Cara
Youth Media Team