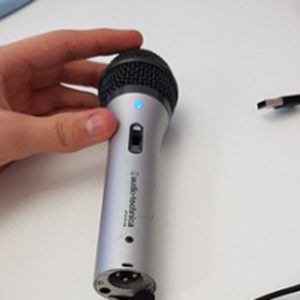 Just before the keynote speech by Mags Amond, Denis and Jack did a mic test using a ATR2100-USB microphone connected via a USB A to USB C adapter into a Galaxy S8 using Spreaker Studio.
Listen to "Jack and Denis microphone Test" on Spreaker.
Bernie Goldbach tested the Beyerdynamic mic connected to the iPad Mini via an iRig Pre.
Listen to "At CESICON 2019" on Spreaker.
Both mic tests sound very clear.