Mary Jo Bell  ( @7MJB) won the 1st prize in the raffle at last night's #cesimeet here at ICTEDU.
She won a set of 'ShowMe Boards' . Photo below.
She will be using them in her senior infants class.
Mary Jo will then give feedback to CESI on how she uses them and how she got on with them.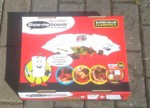 Youth Media Team
Dave